Students
Study Hub
Current Students
Helpful materials for your studies.
Book Spotlight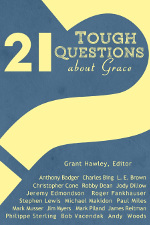 21 Tough Questions about Grace
by Various Authors
Dedicated to a champion of grace, Dr. Earl Radmacher, this book deals with questions that every serious student of God's Word and recipient of God's grace has asked. For example: Is Free Grace 'Cheap Grace'?; How Were People Saved in the Old Testament?; and, Didn't Jesus Say We Must Persevere to the End to Be Saved? Written for those who treasure GRACE, this book is a wealth of information in one volume that is useful for both personal and classroom study.
Dr. Larry Waters
Dallas Theological Seminary
Lead Editor, Bibliotheca Sacra
Click here to learn about its contents.