Paul Miles, Director of Bold Grace Eastern Europe
March 1, 2014 18:50 (Eastern European Time Zone UTC+2:00)
On November 21, 2013 protestors occupied downtown Kiev to demand integration with Western Europe. These protests grew and were soon less about European integration and more about ridding Ukraine of the politicians in power. This movement became known as Euromaidan (Ukr. ??????????, lit. "Eurosquare"). Things were violent for a few months and the first official death occurred on January 22nd. After some intense battles in late February the death toll rose to over 100 with thousands injured. Key leaders fled Ukraine and regrouped in other countries. Yanukovich, the former president, was impeached and fled to Russia while news reporters rushed into his home and made public his obviously corrupt and embarrassingly tacky wealth.
Yesterday, 2,000 Russian troops arrived in Crimea. Today, a giant anti-Euromaidan riot broke out in the city of Kharkov, Russian troops moved into Zaporizhzhka, and the Russian Federal Council unanimously voted for military intervention. It seems that Russia is invading from the South as Ukraine falls apart in the East (map). As far as mortal men can see, it is still uncertain how far the military invasion will push and how violent the reaction will be. We have family (Lena's side), friends, and brothers and sisters in Christ in Dnepropetrovsk, which is in the province neighboring Zaporizhzhka. We also have friends and partners in ministry in Kharkov and even further east as well as the rest of Ukraine, where the revolution has been more peaceful.
We have made plans to travel to Lviv in a few weeks to meet with some local believers regarding Bold Grace Ministries and to teach at a workshop. Transportation has been difficult, though. A friend has recently had to cancel a trip to Kiev from Zdolbuniv (a city in the province north-east of Lviv) because of transportation issues. For months, we have been planning the first ever Bold Grace International Conference in Kiev for May 16-18. The conference is currently on standby as we may wish to postpone it if there will be political difficulties.
The situation in Ukraine is complex and over the past few months we have seen how drastic changes can take place over the course of a few hours. We are asking for your prayers. Please pray with us:

- That the revolution in Ukraine can come to a quick and peaceful conclusion.
- That the next political leaders of Ukraine will lead the country in a direction that glorifies God.
- That the current interim leader (Oleksandr Turchynov, a protestant) will carry out his duties in a way that glorifies God.
- For the safety of our friends and family in Dnepropetrovsk.
- For our safety in Kiev.
- For safe travel to Lviv and success in our work there.
- For wisdom to decide whether or not we need to postpone our conference, and if so that we'll be able to reschedule at a convenient time and location.
- That God would stop Putin from bringing about needless suffering.
- For the salvation of nonbelievers in Eastern European politics.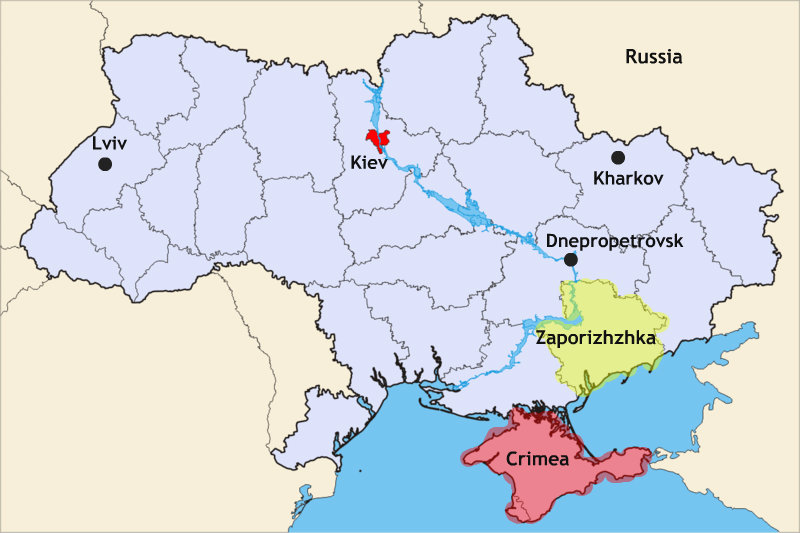 Map adapted from Wikipedia. Original can be seen here.